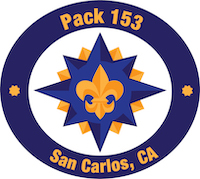 [About]
[Join]
[Events]
[Mailing List]
Formed in 1989, and sponsored by the San Carlos Lion's Club, Cub Scout Pack 153 is part of the Redwood District of the Pacific Skyline Council, Scouts of America. We do not subscribe to any political agenda and welcome boys and girls from all ethnic, religious, and cultural backgrounds in first through fifth grades. Most of our members attend Arundel Elementary and St. Charles Schools, but we welcome other Scouts in the area who are interested in joining Cub Scouts.

We at Pack 153 understand you and family are busy and at times need to juggle around competing interests in the same household. We prioritize family members' interests in our outings and events. We encourage you to include any other family members/siblings to attend and participate whenever possible.

We are an organization that holds events each month of the year, but it would be unlikely that any one Scout could attend all. We offer these events because we know that by having a variety of activities, each scout and family can select those that interests them. We look forward to putting together a fine Scouting program that your Scout will enjoy and learn from. Let's create some great memories!